About
Practical, truthful, applicable, personable, humorous, helpful – that's Sandy Creek Stirrings! The goal of Sandy Creek Stirrings is to "stir up" Christians to do something great for the cause of Christ! Steeped in a heavy dose of Biblical, factual, and logical truth, you can expect practical content, personable listening, and compelling topics that lead to applicable living. You can count on every episode to give you something that you can immediately put into practice within your daily life. Welcome and thank-you for listening to Sandy Creek Stirrings!
With episodes released every Friday morning, you can listen on all of the major podcasting platforms, such as: Apple Podcasts, Google, Podcasts, Spotify, Anchor, and more!  You can even listen on our website!  Our practical, truthful, and applicable content features many exciting formats:
Apologetic episodes that teach you how to defend issues of the faith in a Biblical, logical, factual, eloquent, and friendly manner.
Interview episodes with seasoned men of God who have "been there and done that". These episodes are filled with applicable wisdom to input in your life.
Episodes that feel like we are just a group of friends sitting down for a good conversation with a cup of coffee.
Teaching episodes that deep dive into the heart of the issue and allow listeners to walk away with a deeper understanding of the subject matter.
Humorous yet compelling every day truths derived from real life stories to encourage to "keep on keepin' on.
What do we mean by "Practical", "Truthful", and "Applicable"?
PRACTICAL: Teaching, discussions, and topics you can take home or to work and use that same day. We aren't trying to reach religious scholars; we are trying to reach the average Christian just like me and you.
TRUTHFUL: Skip the fakes and fluff, we want truth. Though it may not always be politically correct or easy to swallow, truth is a necessity – we have enough fallacies in the world.
APPLICABLE: You can have all the teaching and truth you want but where the rubber meets the road is application: Do you really live like you believe it?
In each episode, we want to make sure that these critical elements are not lost in this busy world. It is our desire to see you walk away from each and every episode having not only enjoyed the content and having a laugh or two, but also with a heart intent on changing this world for a cause worth dying for. At Sandy Creek Stirrings, you can count on receiving practical truth that you can actually use.
The Name
In American history, there was one man who, in my opinion, made the single most important impact upon our nation. It was a man by the name of Shubal Stearns who was born in 1706. During the time of the Great Awakening, he came to the saving knowledge of Jesus Christ after being raised in a religious home but never having a personal relationship with Christ. After accepting Christ as his Savior and being scripturally baptized, Shubal Stearns set out to do something great for God. He set out to impact the land. Not because of pride, no, because of something in his heart that genuinely wanted God to be magnified in the sight of all people. He began to preach with fervor and zeal. His emphatic and emotional preaching is well documented, and his dynamic style was admired by everyone, except those who wished to silence him. We do not really have any of Stearn's personal writings as he was too busy serving God to write about himself and his accomplishments. But spiritual accomplishments he had! After serving in Virginia for a period of time, he moved, following the call of God, to North Carolina. There he started the Sandy Creek Baptist Church in 1755. An incredible work started by a Spirit led leader. When he saw how religious but how lost the North Carolina people were, in the same fashion as the apostle Paul in Acts 17, his heart was stirred up within him. Sit still? No, he could not! He must do something! And he understood that what could touch the hearts of these people was preaching from truth from God's Word. Preaching from the local church and preach he did! He began to see souls saved there in Sandy Creek! But his heart yearned for more and he desired to even see more churches started! Within just two years, the church grew from 1 to 9. Within 17 years, 42 churches were started from the Sandy Creek Baptist Church and people touched by the preaching of Shubal Stearns. Within just a short time, preacher boys touched by Shubal Stearns himself or other preacher boys of Shubal Stearns began to spread the Gospel into the states of South Carolina, Tennessee, Virginia, Kentucky, Ohio, Indiana, Illinois, Mississippi, Georgia, and others! An incredible work by an incredible man who simply had a stirring in his heart to do something great for God.
I do not know about you, but stories like this make me both excited and ashamed. Excited to know that God has the power to use men to truly impact the world. Ashamed because so many times I fail God on a daily basis. When you think about it, compared to the days of old, we live in a society of weak Christianity. We live in a society of anemic Christianity. People just are not zealous anymore like the zeal exhibited by Shubal Stearns. We have a lot of young men today who instead of having an excitement to preach or a desire to be used by God, they are instead content to just bide their time. To see how things play out. To just wait around until there is a lightning bolt from the sky telling them where to go and what to do. Men like Shubal Stearns did not struggle for 20 years with what God wanted them to do with their lives, they just started working! The frank, stark reality is that there are too many who wait around, sitting on their hands, saying, "I just don't know what I want to do with my life yet…". And for years, they stay that exact same way.
But then there are those others: the ones whose heart is uncertain but their spiritual fire is lit. They have zeal. They have desire. They have excitement. They just need a push. They just need an encouragement. They just need a commendation. They just need someone to come alongside them and say, "With God, you can do it!". The apostle Peter reminds us to "stir up" those around us through remembrance.
That is what I desire: to stir you up simply by reminding you of the truth. To kindle the flame. To cause zeal to swell in your heart. To be stirred up to do something great for God. To be the next Paul. To be the next Shubal Stearns. To be a man who is stirred up like the men of old and impact this world and this generation. As Shubal Stearns impacted his known land and time at Sandy Creek because of the stirring in his heart, so I desire for both you and I to do and see the same. My desire is that we would have:
A Sandy Creek Stirring.
Who Am I?
My name is Joshua Gimenez. I was born on Keesler Air Force Base in Biloxi, Mississippi where my father was stationed as an airman. When he surrendered to preach, he left the military, and we moved to Carthage, Missouri where my dad trained in the ministry. It was there that I made the most important decision anyone can ever make. As a three and a half year old boy, I realized that I was lost and on my way to hell. I had been raised in a Christian home, I believed in God, and I had heard all the stories but that wouldn't get me to heaven. The Bible says that I needed to ask Jesus Christ to come into my heart and save me. I called my dad into my room and it was there, by the wood framed bed, I asked Jesus Christ to come into my heart and save me. I wouldn't trade that moment for anything in this world! I changed my eternal destiny that day, simply by calling out to Christ with a believing heart.
After having been on staff at a couple of churches, my family surrendered to be missionaries overseas in the summer of 2006. We immediately sold our home and traveled across the USA to raise support from local churches. After a couple years on the road, we spent a year and a half in language school in Quebec City, Canada. From there, we finally reached our missions destination: the French West Indies.
We were excited to be on the field and we saw some great things happen. We were there for just over three years when my mom became very ill. The doctors on the small island could do nothing for her, so her and I visited a larger island but we faced the same issue. "Go back to the states, the doctors there can figure it out," they said. So we sent her back and we stayed on the field. A month later, we got a call: Mom had been diagnosed with a couple different types of cancer. It was time to go home. In God's way, He shut the door on foreign missions for our family.
We arrived back in the states and the next tests came. We sought churches all over the USA to pray and when the results came back, it was a true miracle: the cancer had disappeared! Though excitement was high, Mom struggled with tremendous pain for the next 5 years – 5 years with no diagnosis.
During this time, I went off to Bible college in Santa Clara, California: the great Golden State Baptist College. I was exuberant and glad to be a part of this thriving ministry. I planned on being there for all years, get my bachelors, and then immediately go into full-time ministry. (God called me to preach when I was 10 and I knew there was nothing else for me.) That was…until I got a call that changed my life.
Dad called. They had gone to our mission board to resign as missionaries because they had to stay in the states. The mission board refused their resignation and asked them to pray about starting a church while receiving medical care. They prayed over all 50 states but only had peace about one: Florida. After each doctor appointment, they would drive hours through Florida praying about what place they should start a church. God gave them peace about none. They were on 441 passing through the final town, heading toward the interstate, when God said "Stop. Pull over." They did. The sign read, "High Springs, Florida". This was the place.
"We are moving to High Springs and will be starting a church at the beginning of the year. Be praying for us," Dad ended the conversation. But in my heart, it wasn't over. God grabbed a hold of me and I knew the difficult decision I had to make. Though I loved college – dorm life, friends, ministry, everything – I knew God wanted me to move back and help my parents start that church plant. And so, after one semester in college, I moved back home, transferred my classes to another school online, and we started the great Victory Springs Independent Baptist Church in High Springs, Florida. Not knowing who would show up, we signed a 2 year lease on a small building and took on 4 missionaries by faith that God would do something great…and He has!
The church turned 5 years old on March 22, 2020 and God has done miracles here! Attendance has grown by leaps and bounds. Faith has abounded. We bought just under 6 acres of property for our new building to be built on and payed it off in a year! Not long from now, the construction process will start on VSIBC's new building! God is so good.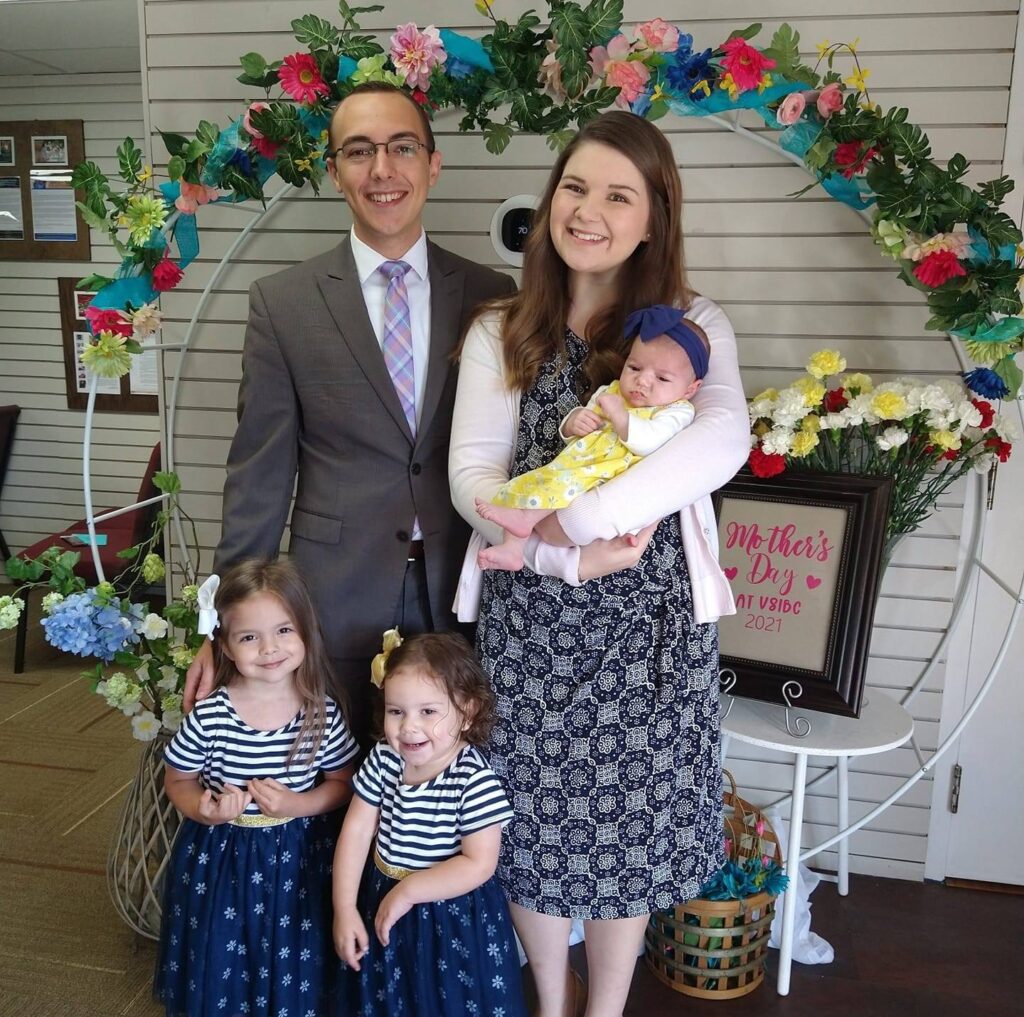 In January of 2017, I married the most amazing lady in the world, my wife, Tabitha. We had met 3 years before at teen camp and had been writing ever since. Tabitha works right alongside me in the ministry and is an eternal blessing to the weirdo that I am. (I now realize how much the term "help-meet" truly applies.) We run junior church and the teen group, organize all the college and career activities, run the sound equipment, complete all the IT/graphic design work, as well as much more! Tabitha is the nursery coordinator and I lead all the music and choir. We love staying busy for God. In 2017, we had our first child, a little girl: Liberty. In 2019, we had another little girl and named her Freedom. Last, but certainly not least, we had the joy of bringing another little girl into the world on March 23rd, 2021: Victory. God has blessed our little family and we are so grateful for this life we get to live.
When I moved back to help start VSIBC, I took a job as a part-time cashier at our local hardware store. Within a short amount of time I went from part-time to full-time, from cashier to sales floor, and all the way up to store manager. God really blessed with a good job for 5 years but I always yearned for what God really called me for: full-time ministry. It was with much excitement that I accepted the call from Victory Springs to go on full-time staff as the "Assistant to the Pastor" in December of 2019. God is so good!